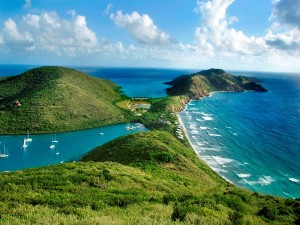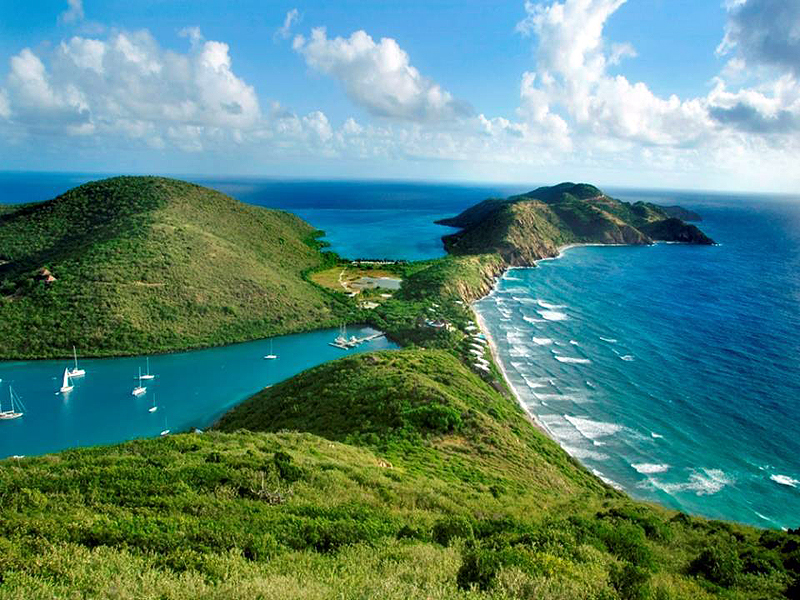 Sample great Pina Coladas at Mad Dog – a wooden built bar close to the famous Baths.
The Baths is only one of the many great snorkelling spots to enjoy in and around BVI. Afterwards, cool off in the pool at "The Top of the Baths" restaurant – the food is great too!
The Monday night buffet at Little Dix Bay hotel on Virgin Gorda is an experience not to be missed! Check out the amazing desserts!
For something a little different, go by boat to dinner at Saba Rock restaurant in the North Sound. They will pick up free of charge from Leverick Bay, Bitter End and Biras Creek.
Enjoy a cocktail at the Fat Virgin Cafe situated in the creek at Biras Creek hotel. You can access this easily from the water and tie up at their dinghy dock.
Meaning the Fat Virgin, this breathtakingly beautiful island is home to the Baths, a unique formation of rocks and caves for you to explore, snorkel and enjoy.
Day sails to nearby islands can be arranged from the Yacht Harbour located at Spanish Town with its own collection of shops and boutiques.
Relax and enjoy a cool beer or cocktail at the Bath and Turtle bar whilst deciding which beach you are going to swim from, snorkel from, sunbathe on – Spring Bay, Trunk Bay, Mahoe Bay, Savannah Bay….the list is endless.
Come, visit Virgin Gorda, where you can have nothing to do and all day to do it in.
Hire a jeep from L & S jeep rentals on Virgin Gorda. This is the best way to explore the island.
Virgin Gorda is part of the British Virgin Islands in the Caribbean. This breathtakingly beautiful island is home to a unique formation of rocks and caves. Explore, snorkel and enjoy.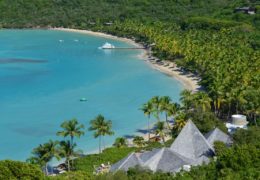 Rosewood Little Dix Bay is a top class hotel in a stunning setting and has undergone a massive multi-million dollar refurbishment. Situated on a beautiful white sand beach, this is one of the most luxurious and well-situated hotels on Virgin Gorda. It repeatedly wins awards and recommendations for offering world-class accommodation, friendly service and luxurious spa facilities, and keeps visitors coming back year on year.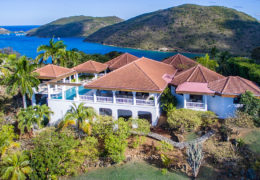 Your private getaway in the British Virgin Islands.
A simply luxurious villa with stunning views.  Villa Tamar is the perfect place to recharge your batteries.  Magnificent views of the North Sound are all around you at Villa Tamar.  Overlooking Leverick Bay on Virgin Gorda,  Villa Tamar is the perfect villa for your next holiday with friends or family.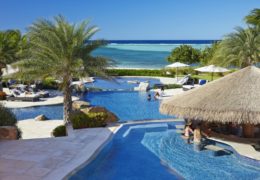 Nestled on a private peninsula on the eastern tip of the lush island of Virgin Gorda in the British Virgin Islands, sits Oil Nut Bay – a splendid hotel offering top class accommodation, unlike any other in the Caribbean. One visit to this tropical paradise will completely spoil you for anywhere else. It is simply stunning. Oil Nut Bay's sun drenched white sand beaches, offer unbeatable views and great snorkelling along the natural coral reef.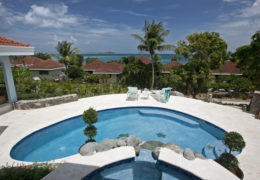 Blue Lagoon is a beautiful 3 bedroom fully air-conditioned villa situated steps away from the stunning white sands of Mahoe Bay on Virgin Gorda.  Blue Lagoon Villa is less than 10 minutes' drive from Spanish Town and the Virgin Gorda Yacht Harbour.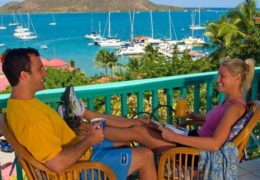 Leverick Bay enjoys beautiful views over the North Sound. Ideal for singles, couples and families, this resort has something for everyone.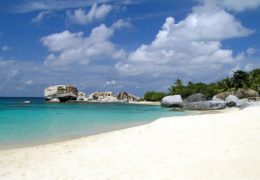 Situated a few minutes stroll from stunning white sand beaches, these one, two and three bedroom apartments are perfect for a totally relaxing holiday. Guavaberry Spring Bay Apartments are set in lush tropical gardens amidst huge natural boulders, the accommodation is elevated affording spectacular views of the Caribbean sea.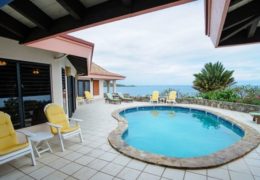 Euphoria is a 4 bedroom, 3 bathroom villa offering quality accommodation at an affordable price. The villa has its own pool and is situated at Leverick Bay on beautiful Virgin Gorda. Euphoria commands spectacular views of the North Sound and the surrounding islands in the BVI.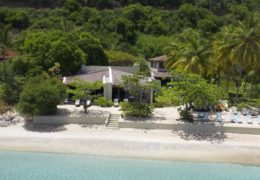 Mango Bay is the perfect villa retreat for those seeking a private holiday on Virgin Gorda Island. The villas are set in lush tropical gardens and enjoy breathtaking views of the ocean and neighbouring islands.
Many couples enjoy a romantic holiday from time to time. When choosing a destination for your next trip, why not consider Sundowner studio apartment on Virgin Gorda Island? Located just a few steps from Nail Bay Beach, and a short walk from Mountain Trunk beach, the white sands perfectly compliment the beauty of this accommodation.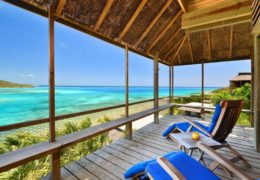 Bitter End is situated at the most north-eastern tip of Virgin Gorda, on 75 acres of land. The resort looks out onto a mile long white sand beach with its own marina, making it a popular destination for yachting enthusiasts. Virgin Gorda is the British Virgin Island's second most populated island, and whilst there is much to see and do here, the resort itself feels secluded and relaxed.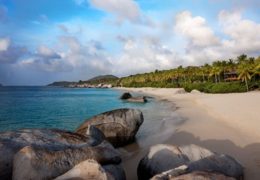 This 8 bedroom villa is one of the most unique in the BVI and fronted by, arguably, the best beach in the Caribbean. Valley Trunk nestles in 19 acres of stunning tropical gardens and tantalising secret trails and pathways.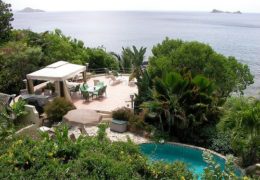 With a magnificent view of the Caribbean Sea and Nail Bay beach, Sunset Watch will make your holiday in the British Virgin Islands unforgettable. This lovely two bedroom villa is located above the beach and features two separate apartments, one on the lower deck and one on the upper deck.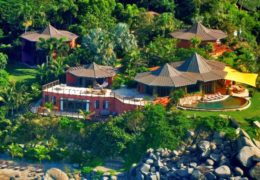 Baraka Point was named after a Swahili expression which translates as 'hurry, hurry has no blessings'. This 12000 sq ft luxury 5 bedroom villa is the perfect place to relax, with an enviable waterfront location at Nail Bay on Virgin Gorda. Set in 2 acres of tropical gardens, the villa has extensive sun terraces leading onto an infinity pool where you can sip an exotic cocktail whilst watching the sun setting beyond the neighbouring islands.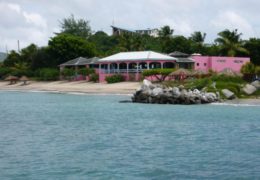 Fischer's Cove Beach Hotel is a small, friendly, locally owned hotel on Virgin Gorda Island providing simple but comfortable accommodation. A stay in Fischer's Cove is all you need for a relaxing holiday in the BVI.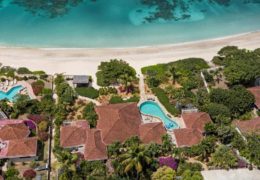 Beachcomber Villa is located on the beach at Mahoe Bay on Virgin Gorda and is a seven-minute drive from Spanish Town. Put on your mask, snorkel and fins and experience the best snorkeling on Virgin Gorda, right at your doorstep. The Villa accommodates 12 guests and has recently been totally renovated.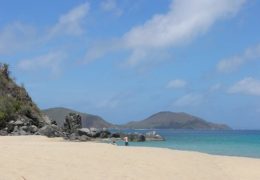 Nail Bay is a stunning 148 acre private estate on the island of Virgin Gorda. The villas are dotted throughout the luscious hillside and secluded beachfronts of Mountain Trunk Bay. If you are looking for a Caribbean getaway with family or friends, you'll love the beautiful rental accommodation at Nail Bay.