Snorkelling in the British Virgin Islands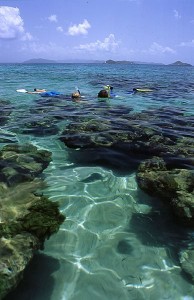 In the British Virgin Islands, there is much to explore with just a snorkel and mask at one of the many incomparable dive sites around 60 islands and cays. Spring Bay in Virgin Gorda has a gorgeous sandy beach perfect for snorkelling from. Nearby at The Baths (also Virgin Gorda), an extraordinary natural landscape awaits, with partially submerged grottos created by huge boulders that were scattered by ancient volcanic activity. Snorkellers can tour giant boulder fields or immerse themselves in coral-encrusted shallows. Brewer's Bay on Tortola holds schools of trumpet fish, barracuda, octopus, stingrays and sergeant majors, and Smuggler's Cove at the northwest end of the island, offers two reefs, just 100 feet offshore, which are the playground of grunts, squirrel fish and parrot fish. Off Anegada, the wreck of the Parmatta, which ran aground in 1853, on her maiden voyage, provides an opportunity to see butterfly fish, turtles and huge groupers.
Some of the best snorkelling anywhere is in the British Virgin Islands. The water is so incredibly clear you barely even need to get off the boat to see dozens of varieties of amazing tropical fish and coral reefs covering every colour of the rainbow.  Bring or rent a mask and some flippers and walk in off the beach or jump in off the boat.  The beautiful world below the surface will amaze you.  Here are a few more suggestions.
The Indians
These unusual rocks close to Norman Island in the BVI are covered in coral, attracting colourful parrotfish.
Money Bay
This extremely secluded bay off Norman Island is the place to find Stingrays and some of clearest water in the BVI.

Green Cay
Off Little Jost Van Dyke, which is a short boat ride from Tortola, Green Cay has some incredible reef formations bringing in huge schools of angelfish. You can easily reach Green Cay from Cane Garden Bay, Tortola – hire a small boat, or go on one of the snorkel trips on offer.
The Baths
Virgin Gorda – One of the most popular snorkelling sites in the BVI, The Baths is surrounded by dramatic granite boulders and a plethora of sea life.
The Dogs
Another amazing spot to snorkel in the beautiful British Virgin Islands.
Loblolly Bay
A truly beautiful underwater world. From giant conch shells to sea turtles, this treasure off Anegada is a true find. If you are very lucky, you may even find a very rare conch pearl.