Fishing in the British Virgin Islands
Bonefishing
Weighing up to ten pounds, the slender, silvery and surprisingly elusive bonefish makes an incredible fighting fish.  Excellent bonefishing  can be found in the BVI, especially on the reef-ringed island of Anegada. The fishing community on this isolated island is reminiscent of Hemingway's Bimini in the 1930s." See BVI on the Fly".
Other BVI locations also excellent for Bonefishing are the flats around Tortola, Beef Island, Camanoe Islands and Jost van Dyke. The North Sound has locations such as Colquhoun Reef and Eustatia Reef just off Virgin Gorda.
Flyfishing
Saltwater fly fishing is popular for permit and tarpon also. Increasingly popular is fly fishing from sea kayaks. The run to the flats is usually made in a 28′ Bertram which is fully equipped with safety gear, coolers and fly fishing equipment. You will then transfer to an 18′ Bradley poling boat which accommodates two people plus guide.
Wading trips are also popular where clients are met and taken to the flats in a 4 x 4 vehicle. The fishing is equally as good and the wading trips are much cheaper than the boat trips.
Anegada is at the windward edge of an undersea plateau that supports the islands and
the North Drop area, just north of Anegada and Horseshoe Reef, goes from 30 fathoms to over 200 (1200 feet). Huge schools like squid and flying fish congregate into dense "clouds" in and above the numerous canyons in this area to feed on the upwelling currents and, in turn, become baitfish for the ocean roaming predators, such as yellowfin and blackfin tuna, wahoo, dolphin or dorado and the most popular gamefish in the world – the blue marlin.

Deep sea fishing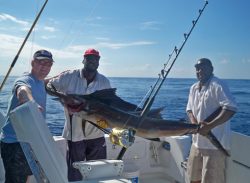 The BVI offers world class sport fishing at its best. Fish often caught range from Mahi-Mahi, Wahoo, Tuna and various billfish including the famed Atlantic Blue Marlin.
It is a well known fact that the waters known by the names "World Famous North Drop" and the "Puerto Rican Trench" are some of the best sport fishing grounds in the world.  The North Drop contains the second deepest ocean depth on the planet at 33,000 feet deep.  In fact, all sport fishermen agree that from June to October, these waters are the 'Capital' fishing grounds for the monster Atlantic Blue Marlin. Jost van Dyke is the closest island to the "Corner", where record after record has been set.  Fish for Blue and White Marlin, Longbilled Spearfish, Sailfish, Mahi Mahi, Wahoo, Kingfish, Shark, Blackfin Tuna, Skipjack Tuna, Little Tunny, Bonito and monster Yellowfin Tuna.  Experience the local art of night bottom fishing and deep water Grouper and Snapper fishing, where you could hook up with Swordfish, Thresher and Mako Sharks.
Fishing charters pick up from many convenient points  throughout the BVI.