There are many lovely beachfront hotels, villas and apartments in the beautiful British Virgin Islands and here, I am just giving you a very small selection – there are many more!
Tortola is home to the Sugar Mill Hotel which is a lovely boutique hotel with only 23 rooms.  The Sugar Mill is on the beach at Little Apple Bay on Tortola and offers fabulous food, excellent service and stunning views.  The Sugar Mill offers bed and breakfast and all inclusive options to their guests.
Just along the beach from the Sugar Mill is Sebastian's on the Beach – stunning location and you can surf here between November and March.  The rooms are beautiful and the staff friendly and helpful. It's so relaxing sitting on the terrace next to the sand sipping a cocktail and lazily watching the world go by.
Quito's Luxury Inn on Cane Garden Bay, Tortola is just that – luxurious and affording spectacular views over the bay.  The owner Quito Rymer is a renowned musician and artist and entertains visitors to Quito's Gazebo on a regular basis.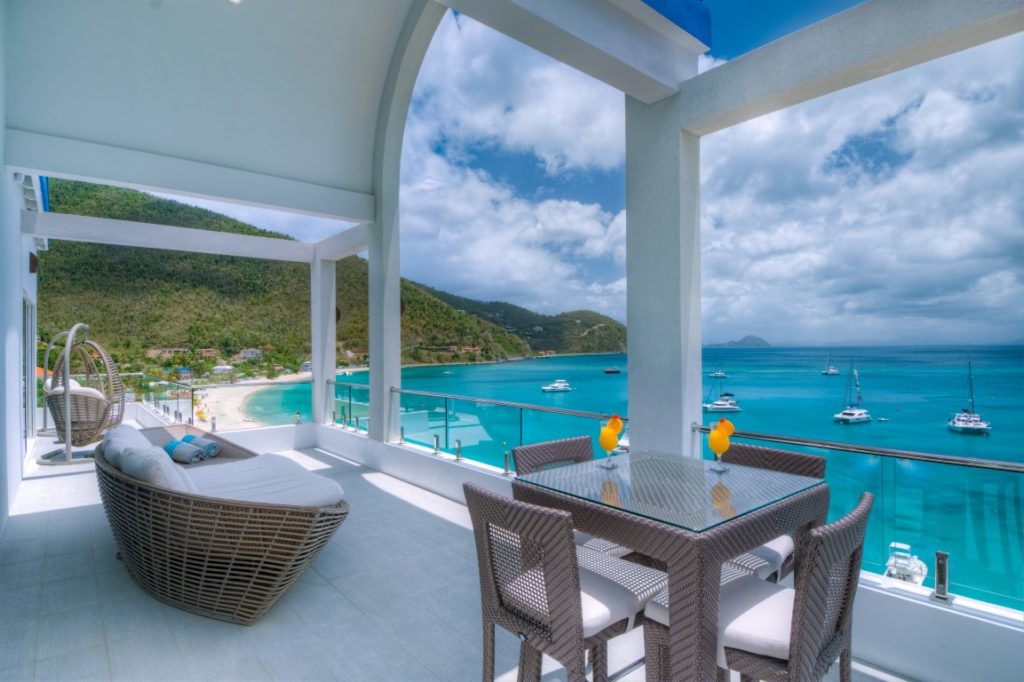 The Lighthouse Villas, also on Cane Garden Bay is a small collection of reasonably priced apartments and close to the numerous beach bars and restaurants on Cane Garden Bay.  Road Town, the capital of the BVI is less than 15 minutes drive.
Lambert Beach Resort and Spa on Tortola has a truly stunning location at the East end of the island and close to Terrance B. Lettsome airport on Beef Island.  Lovely rooms which are scattered among the tropical gardens and along the beachfront, fabulous restaurant and a large swimming pool.
Virgin Gorda is home to lots of beautiful beachfront properties – Rosewood Little Dix Bay is an amazing 5 star luxury resort hotel with butler service, set in tropical gardens with 3 restaurants serving first class food, fitness centre, six tennis courts and two pickleball courts and the most amazing Spa I have seen anywhere with views to die for.  They have a great kids club too from teenys to teens, offering something for every age.  You will never hear your children utter the words "I'm bored"!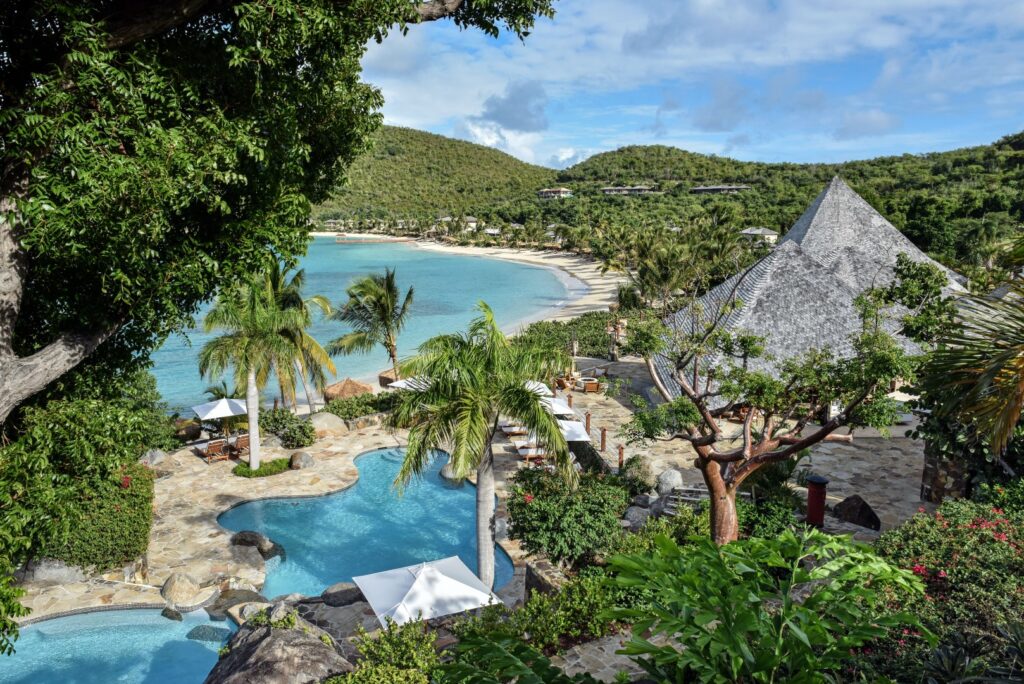 Mango Bay on Virgin Gorda offers studio and villa accommodation which is spacious, comfortable and totally relaxing.  They supply kayaks for their guests' enjoyment and one has a clear bottom, so you can view the amazing marine life without getting wet!  Mango Bay is in a very private location but only a short drive from bars and restaurants on Virgin Gorda.
Fischer's Cove Beach Hotel on Virgin Gorda is in a great location next to the Yacht Harbour.  Their restaurant sits out over the beach and the food is wonderful.  If you just want a simple pizza – this is the place to go.  They make all their own pizzas in their pizza oven and provide a takeaway service too.  Fischer's Cove is currently undergoing a complete refurbishment of all of their rooms and they are beautiful.  I had a tour a few months ago and was very impressed.  I am looking forward to seeing the finished article which should be around November/December 2020.
Oil Nut Bay is a luxurious property at the northern end of Virgin Gorda where the accommodation ranges from Bay Suites and Cliff Suites for two, to six bedroom luxury villas with pool.  The facilities at Oil Nut Bay are first class and their kids club is aptly named "The Nut House".  My favourite spot at Oil Nut Bay is the Marina Village where there are shops, a library/reading room and their wonderful restaurant – Nova.  Nova serves delicious tapas and other appetising dishes and you can relax in one of their overwater hammocks or cool off in their pool while enjoying a cocktail or two from the pool bar.
Anegada is the most northern of the British Virgin Islands and unlike the rest of the BVI – completely flat.  It's easy to reach from Tortola or Virgin Gorda either on the ferry or a very short flight.
Anegada Reef Hotel is right next to the ferry dock, you can walk from here to the hotel.  The hotel is waterfront with the most spectacular views and from here you can hire a jeep or scooter to explore the island and access the many fabulous beaches on Anegada.  Here you will sample the best lobster in the BVI.  Freshly caught every day and grilled on the barbecue on the beach every evening.  Their rooms have been completely refurbished and are very comfortable.  Anegada Reef Hotel is within walking distance of several bars and restaurants on Anegada.
The Anegada Beach Club is located at Keel Point on a fabulous white sand beach and offers romantic Palapa Retreat rooms right on the beach.  Tommy Gaunt, the world class kitesurfer has his kitesurfing school at the Anegada Beach Club and offers lessons in kitesurfing and paddleboarding.  When Tommy and his team take to the sky, the shows are breathtakingly spectacular.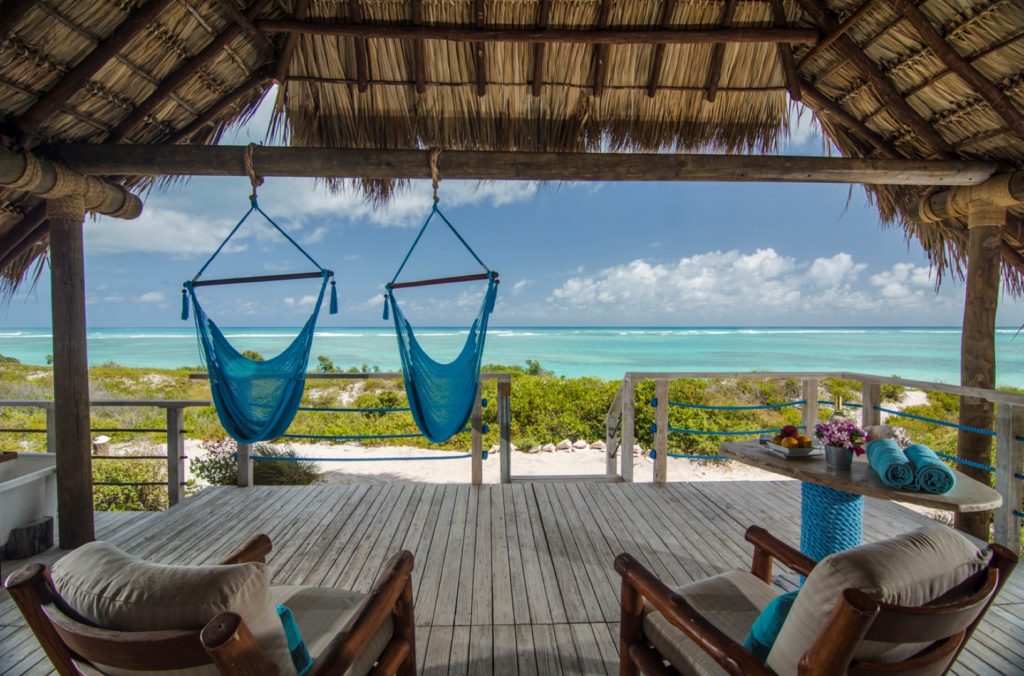 Big Bamboo Beach Cottages on Anegada enjoy a fabulous location on Loblolly Beach and offer the traveller an inexpensive and comfortable base for exploring Anegada.  You will live in t-shirt and shorts or swimwear here for your entire stay.
These represent only a small amount of the stunning beachfront hotels, apartments and villas in the beautiful British Virgin Islands.  Call BVI Holidays for more information.  We are happy to assist and just love talking about the beautiful BVI!  Call us now and this could be you!