Spas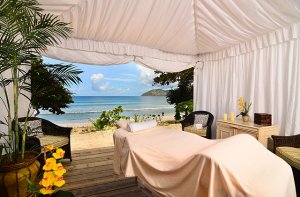 If you thought your stay in the beautiful BVI couldn't possibly get any better – think again……
Recuperate from the stress of everyday life and become rejuvenated in BVI's eco-friendly spas that utilise natural resources such as salt scrubs, mud and bush baths, aroma-therapies, seaweed, algae and clay wraps, hot stone massages, avocado body rubs and pomegranate scrubs.
There are many different types of Spas throughout the BVI offering varying relaxing treatments for mind, body and spirit. Most of the Spas are either beachside or situated on a hillside with amazing views of the British Virgin Islands.
Luxurious treatments include massages, scrubs and wraps, facials, hair treatments, manicures, and pedicures using top quality products.  Aromatherapy and reflexology are also offered at selected Spas throughout the BVI.
 Diamond lifting and anti-ageing facials are extremely popular and you may also wish to indulge in an age-defying lip and eye treatment.
 Aryuveda is a holistic health system from India that believes no problem in the body exists in isolation; everything you interact with, your diet, family, work, relationships, mind, body and soul, all have an effect on your health and wellbeing.
An Ayurvedic treatment will help diagnose imbalances in the body and prescribe regimes and patterns for preventing illness, and achieving a better, healthier life. The richly scented warm-oil massages are very nurturing, restorative and amazing for your skin.
The Spa at Peter Island offers Ayurvedic treatments.
Your good health and well being does not stop however at a spa treatment – for those who wish to keep fit, as well as swimming of course, you can enjoy classes in yoga, pilates, power walking and even Zumba.  In addition to this, there are also fitness centres at selected hotels in the BVI.
Biras Creek Resort
The spa at Biras Creek Resort on Virgin Gorda offers an array of treatments – from body and facial treatments to specialty wraps, massages, manicures, pedicures and more. The experienced therapists use Decléor products in combination with locally-grown aloe and neem leaves. The spa's signature treatment, the Island Cooler, offers guests an invigorating salt scrub moisturized with freshly picked island aloe, a soothing body wrap and regenerating massage.
Replace stress with comfort, relaxation and serenity with a trip to the spa at Biras Creek.
Bitter End Yacht Club
Bitter End Yacht Club, Virgin Gorda
The Spa at Bitter End offers a wide range of services and treatments, from manicures and pedicures, to massages, aromatherapies and reflexology.   Their internationally acclaimed Decleor line of spa products, as well as locally available herbs such as neem, aloe vera, coconut, and henna (for tattoos) all combine to help you relax and refresh the BVI way.  
Indulge yourself with in-room spa services or tailor your treatments to create the perfect spa experience.  Private or group yoga sessions overlooking North Sound, Virgin Gorda can be arranged by the Spa manager and his team of professionals who also create special spa experiences for bridal parties and wedding day preparations.
Come….enjoy the Spa at Bitter End Yacht Club – you won't be disappointed.
Sense Spa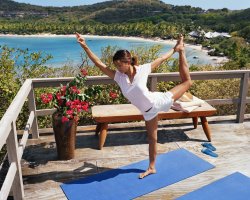 Little Dix Bay Resort, Virgin Gorda
Dramatically situated on the cliff's edge, Sense, the Spa at Rosewood Little Dix Bay, enjoys stunning views over the Sir Francis Drake Channel and the beach below.
Sense Spa offers a wide variety of treatments including the Virgin Gorda Goat Milk and Honey Wrap and the Salt Island Scrub. The spa's relaxation area features a two-tier infinity pool and an exclusive Cliff Spa Suite is available for couples. The spa also hosts yoga, Pilates and meditation classes.
Spa Tranquility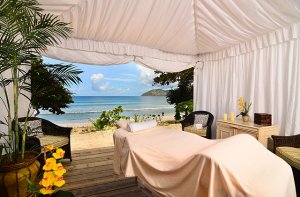 Long Bay Beach Resort, Tortola
The Tranquility Body & Soul Spa at Long Bay Beach Club, Tortola offers a comprehensive range of relaxing treatments.
Imagine relaxing next to the ocean and listening to the sounds of the waves lapping the shoreline as you enjoy a signature massage, which incorporates Swedish massage techniques as well as movements designed to improve circulation, ease tension, reduce stress and relax the body.
Reflexology releases life's tensions through the energy meridians of the body located on the soles of your feet. Delight in this relaxing, therapeutic foot massage that improves circulation and restores energy flow throughout the entire body.
These are only two of the many treatments available to you at Long Bay Beach Club.
The Spa at Guana Island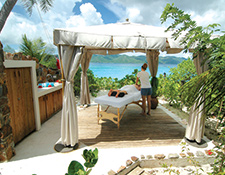 Don't miss the unique experience of a relaxing massage at the Guana Island Spa on White Bay Beach, where nothing will distract you but the lapping sounds of the sea and the gentle breezes.  The experienced therapists on Guana Island in the BVI provide simple massages or special treatments either at the beach or in the comfort of your own room or on your private terrace.
An Aromatherapy massage is only one of the many different types of massage available on Guana Island.  This uses essential oils to relieve muscle tension and spasm and is very effective in easing pain and aiding relaxation.  The massage ends with a moisturising body polish in your choice of Cucumber, Mango Grapefruit, Lemongrass or Guava Fruit.
The Spa at Peter Island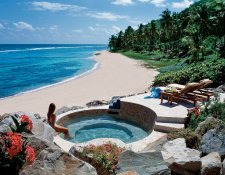 Peter Island
The 10,000-square-foot Spa at Peter Island is so relaxing and offers all the necessities for mind, body and spirit. It includes 10 indoor treatment rooms, two outdoor bohios, couples suites, a beach-side Jacuzzi and a tranquility garden – all with spectacular views of Big Reef Bay.  As if massages, scrubs and wraps, facials, hair treatments, manicures, and pedicures weren't enough, the Peter Island spa specialises in Ayurvedic treatments, a traditional system of Indian medicine renowned for detoxifying and rejuvenating the body.
The Spa at Scrub Island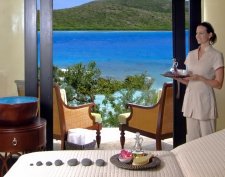 Perched on a hillside overlooking the crystal clear waters of the British Virgin Islands, is the Ixora Spa by L'OCCITANE on Scrub Island.
The spa at Scrub Island, offers a place to relax, refresh and re-energise.  Treatment rooms enjoy breathtaking views of neighbouring islands and the highly trained therapists administer relaxing massages and a variety of other treatments which rejuvenate the mind and refresh the body.  Featuring antioxidant rich products crafted with natural botanicals and anti-ageing formulations, the treatments of The Ixora Spa by L'OCCITANE leave your mind peaceful, your muscles relaxed, and your skin beautiful.
Body wraps and scrubs, anti-ageing facials, age defying eye treatments, his and her massages and a host of other amazing treatments are available at the Spa on Scrub Island in the beautiful British Virgin Islands.
The Bali Leha Spa on Necker Island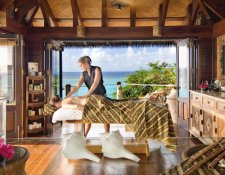 Necker Island
Leha Leha is the Balinese way of describing peace, relaxation and daydreaming which inspired the range of spa treatments on Necker Island.
The therapists use Aromatherapy Associates skincare range which is exclusive to Necker Island in the British Virgin Islands.
Aromatherapy Associates has been at the forefront of aromatherapy for over 30 years. They say: "From the beginning we have believed passionately in the healing powers of natural plant extracts, and our experience as therapists has shown us that essential oils are highly effective in enhancing the state of our physical, mental and emotional wellbeing".
Every treatment on their spa menu has been hand-picked by Aromatherapy Associates especially for Necker.
Both men and women have an excellent choice of spa treatments at the Bali Leha Spa on Necker Island.