Bitter End Yacht Club in the beautiful British Virgin Islands is offering a fantastic and rare opportunity to practice yoga and also stand up paddle-boarding – SUP for short, in the BVI.  This is taking place from 2nd February 2016 for 5 nights. 
Accommodation at Bitter End is in wooden cottages with stunning ocean views and your very own hammock swaying gently on your private verandah.  Enjoy a day sail to the world famous Baths in the BVI.
Most of us appreciate the benefits of yoga both spiritually and physically but SUP is a fairly new sport.  A 2013 report called it the outdoor sporting activity with the most first-time participants.  SUP provides a great overall body workout and is particularly good for the core muscles.  With SUP, almost every muscle in the body is used at some point.
I'm afraid I have yet to master it but, hopefully during my next visit to the BVI in November, I will have an opportunity to give it a go!
I don't think I will quite be able to do this ……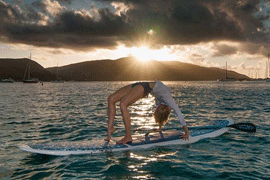 but hopefully this…..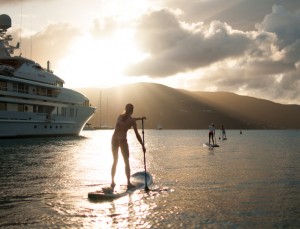 If you are interested in the retreat at Bitter End, please do call BVI Holidays for more details.