SNUBA (Surface Nexus Underwater Breathing Apparatus) is an amazing underwater adventure which is perfect for couples, families, children and seniors. Learning to SNUBA in the BVI is easy and does not require any Scuba diving certification or previous experience; if you can breathe, look and kick your legs then you can SNUBA. It is also a terrific way for certified divers to introduce non-certified partners and family members to the beauty of the underwater world in the British Virgin Islands, many of whom then go on to become certified divers.
SNUBA allows you to explore a three-dimensional world you cannot experience while snorkelling. Swim side by side with turtles and fish along the brightly coloured coral reef. Breathe through a simple to use regulator while your air supply floats on a comforting support raft at the surface.
Enjoy SNUBA at any depth – 2 feet, 10 feet or 20 feet. SNUBA is experienced at your own level of comfort and your BVI SNUBA guide will be with you throughout your entire tour.
One of the greatest features of SNUBA is that guests do NOT have a tank strapped to their back.  SNUBA guests breathe though a standard regulator system and mouthpiece. Air is delivered through a positively buoyant (floating) 20 foot air-line that is connected to the compressed air tanks in the SNUBA raft on the surface. The air-line allows guests to dive to whatever depth they feel most comfortable, up to a maximum depth of 20 feet. You can "power snorkel" at the surface or go down to 2 feet, 5 feet, 10 feet or to the max at 20 feet.
Guests are also trained how to use the air-line for a "hand-over-hand" controlled ascent and descent as well as using it to maintain their vertical control over fragile coral in the British Virgin Islands.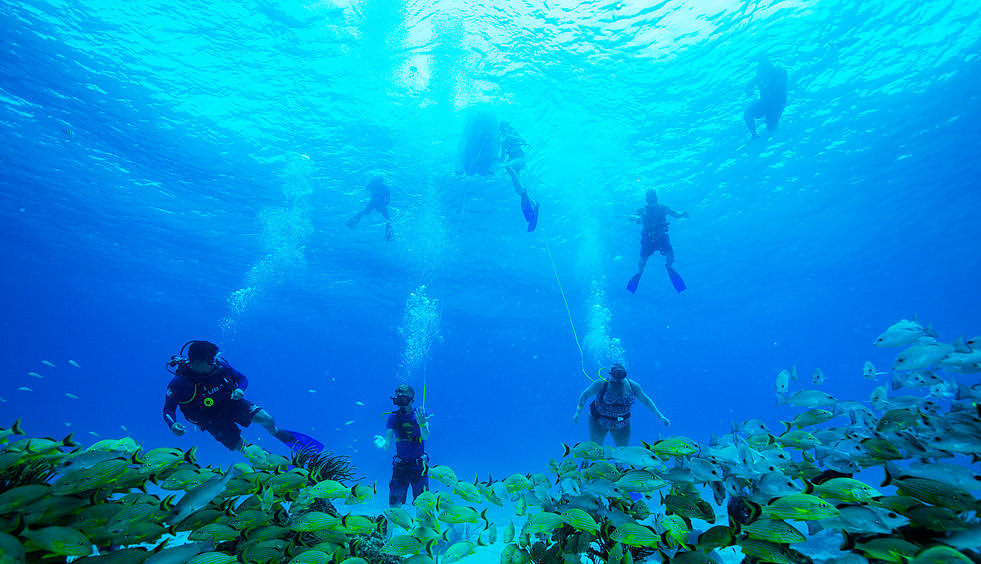 You can learn to SNUBA in the BVI in 3 easy steps……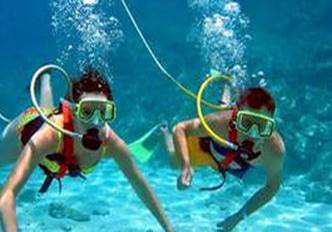 Participate in a 15 minute safety briefing and learn all about using the SNUBA equipment and what to expect during your guided experience

Get geared up for your BVI SNUBA experience with your mask, fins and weight belt.

Swim, breathe and explore the amazing underwater world of the British Virgin Islands at your comfort level guided by a highly skilled and trained SNUBA professional.

 
What does one wear?  Answer – what you would normally wear to go swimming – no struggling into a wet suit, then having to strap on a tank.

If you would like to visit the stunning British Virgin Islands and experience SNUBA,
do call to discuss
your holiday requirements – I would love to hear from you.