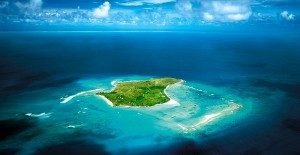 July 2013 – BVI Holidays is excited to announce that Sir Richard Branson's private island in the British Virgin Islands will be re-opened in September 2013.
The Great House will officially be reopened to guests following an extensive two year restructure and has been inspired by the beautiful features and Balinese style of the original house. With some new and innovative twists, it boasts amazing panoramic views of the Caribbean, the Atlantic and neighbouring islands.
Each of the eight guest rooms has a balcony, and all come with king-size beds and en-suite bathrooms. On the upper level you'll find the Master Suite, which is a whopping 1,500 square feet and has been designed for panoramic views from virtually every angle and includes a two-person Jacuzzi, a stand-alone outdoor bath and a kitchenette area with a fully-stocked fridge.
Sir Richard commented: "Necker Island has been my home for more than 30 years and for me it is the most beautiful place in the world."
For those who want to enjoy the full Necker experience without having to hire the entire island (which can accommodate 30 guests) 'Celebration Weeks' provide the opportunity to hire an individual room 'hotel-style' for seven nights. Call BVI Holidays for more details.