Everyone who has heard about the BVI tends to know about Tortola and Virgin Gorda and to be honest….not much else. There are approximately 60 islands that make up the British Virgin Islands and the majority of them are uninhabited, although almost all have stunning white sand beaches.  Just over 12 of the islands in the BVI offer accommodation and one of these is Guana Island. Guana Island is an 850 acre island and has only 16 rooms and 2 villas.  The beaches are white sand and the snorkelling is amazing.

This is Guana's busiest beach.
White Bay Beach, is a half-mile expanse of powder-white sand. Six other pristine beaches provide even greater privacy and the Guana kitchen staff will be delighted to make a delicious picnic for you and ask their boatman to take you to one of their deserted beaches. Snorkelling opportunities abound, especially at Guana's northern tip, which is a Protected Fisheries Area.
Like the other British Virgin Islands, Guana Island has an enviable history.  They accepted their first guests nearly a century ago and since then, Guana has been a welcoming retreat for families and couples, writers, actors and musicians, and global leaders in business and politics.  Over the decades, Guana Island has provided the locations for notable productions including the 1958 classic film Virgin Island starring Sidney Poitier and John Cassavetes.  The "Queen's Terrace," named in honour of the Queen Mother for her visit to Guana on March 19, 1964, is where guests still gather to admire the spectacular view.  This photo is a copy of an original taken from Guana Island's own website.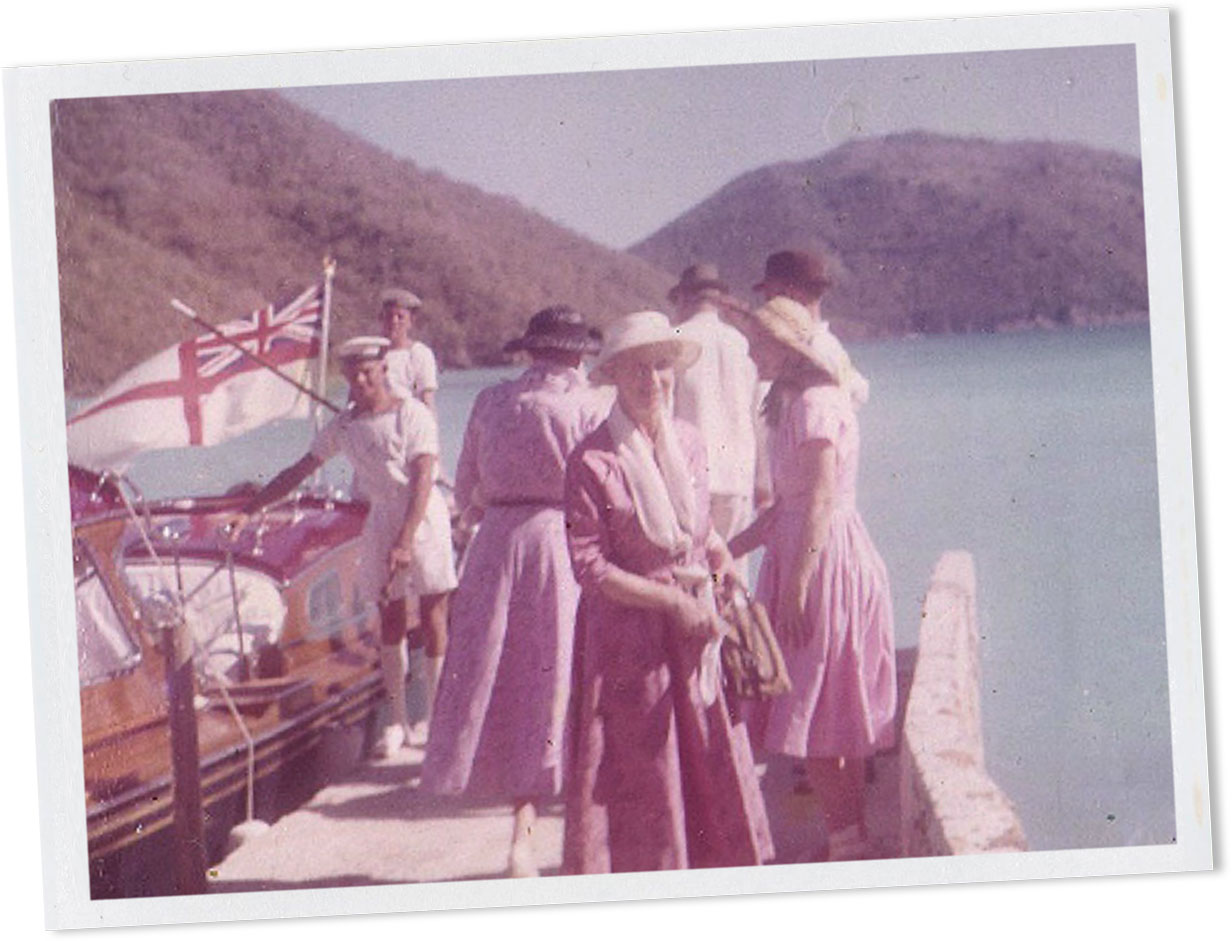 The terrain on Guana Island offers dozens of hiking trails, and you can also have a tour of their orchard and sample a freshly made cup of Jamal's soursop tea or sip coconut water straight from the coconut that Jamal has lopped off the tree for you.  The Guana flock of pink flamingos is elegant and beautiful to see or you can say a quick hello to the Guana donkeys too!  All this is the exclusive domain of a handful of guests for the duration of their stay. There is no public bar, marina, or any other commercial facility on Guana Island.  Guana's understated elegance and absolute privacy (only registered guests are permitted) have made it a hideaway retreat.
The food on Guana Island is amazing – a true culinary experience and Guana's internationally trained chefs create exquisite, farm-to-table cuisine, bolstered by produce from their own organic orchard, eggs for breakfast from the Guana hens and breads and muffins from the Guana ovens.  All meals and wines, as well as snacks like tropical fruit and fresh-baked cookies, are included in the price you pay.
A fleet of beach toys – stand-up paddle boards, paddle boats, kayaks, Sunfish & Hobie-Cat, snorkeling gear, and tennis equipment are available for guests to use free of charge.  Further adventures include water skiing, kitesurfing, local and deep-sea fishing, wake-boarding, and scuba which can be arranged at an additional charge.  Day excursions are also available to book and when the day is done and dinner is over, you can either relax on the terrace with an after dinner cocktail or watch a film in Guana's very own Garden of Eden complete with popcorn!
For those who prefer something less strenuous, Guana's intimate Hibiscus Spa provides massages and beauty treatments at the water's edge.
At Guana Island you will be so well looked after, you will not want to leave!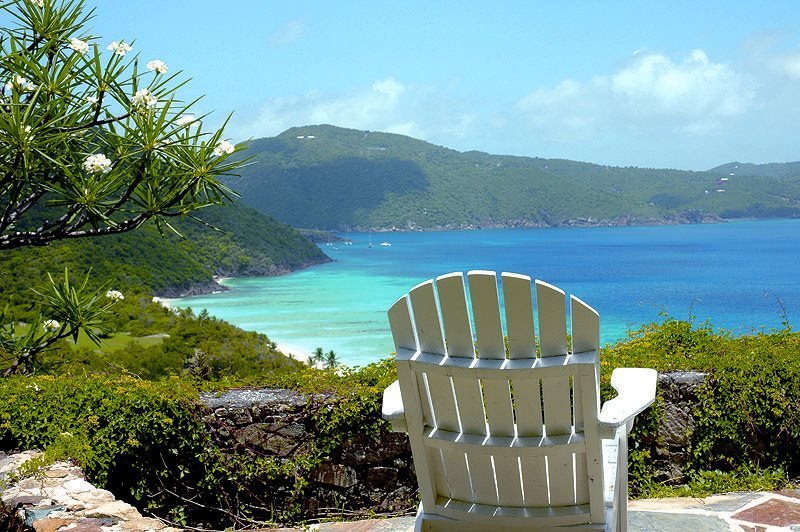 This chair could be yours!  Call BVI Holidays to book your stay on Guana Island, from 1 night…..to as many as you like.  Guana – your original private island hideaway in the sun.