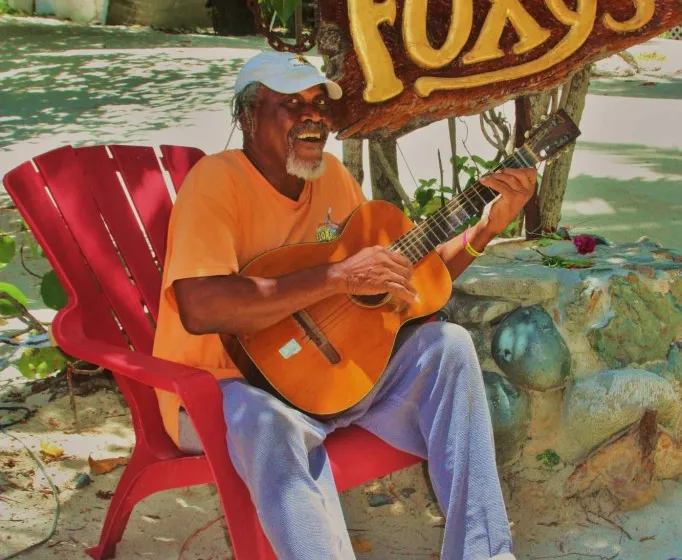 Foxy Callwood – Calypso Singer, Storyteller and Preservationist
Foxy Callwood, born and bred on the small British Virgin island of Jost Van Dyke, is a BVI icon. His Tamarind Bar, started over 50 years ago on a virgin strip of sand in Great Harbour, is a magnet for BVI yachties. Mention the British Virgin Islands to a sailor, and they will inevitably have a story about Foxy, his calypso song renditions and his bold stories of local politicians and international events. A staunch conservationist, Foxy, along with his wife, Tessa, has been an advocate for the preservation of Jost Van Dyke culture, and through the Jost Van Dyke Preservation Society – its unique eco-system. Keeping Jost Van Dyke as a special slice of BVI life has been a life-long goal.
But for many, what stands out is a slate of famed racing events and parties. New Year's Eve at Foxy's in the BVI is considered among the world's top celebrations, along with New York's Times Square and London's Trafalgar Square. Yachts too numerous to count, anchor in Great Harbour and thousands of revellers fill this BVI bay each New Year for an endless beachside buffet, an Upper Crust dining event and world class reggae acts. At Halloween, Foxy's Cat Fight, along with the Pirate's Ball, has become one of the area's most popular races, attracting catamarans and party-goers from throughout the area.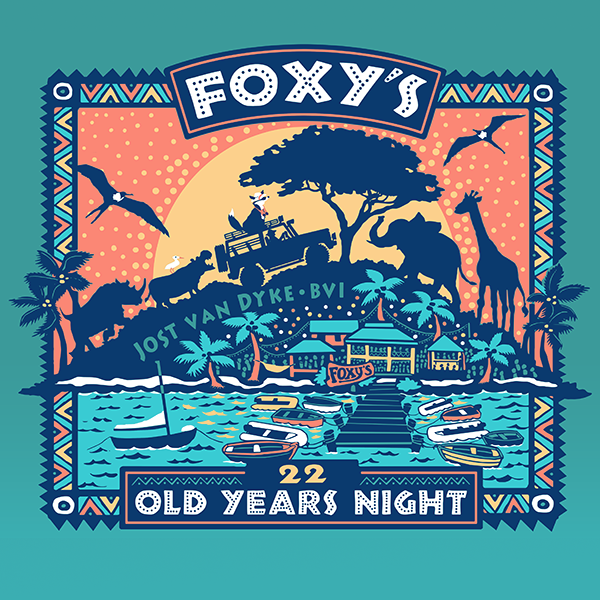 Among diehard yachtsmen, Foxy's Wooden Boat Regatta is an event as legendary as Foxy himself. For over four decades this Regatta has been a staple of the Caribbean racing scene. It has survived the changes that time, wind, and weather have thrown at it.
Foxy, and a few other locals, came up with the idea that wooden boats needed their own Regatta. This was back in the 70s. Noticing that traditional wooden boats were slowly becoming a vanishing breed, it was a way to keep a bit of the past alive in the beautiful BVI.
The traditional wooden sloops which the VI is known for, are true classics in their own right. Both the BVI and St. John, had a decent fleet of these beauties back in the day.
The first year of racing, a meager seven boats competed. But as the word got out, the fleet steadily increased, I'm told, to upwards of ninety boats at its highest number (rivalling other major regattas in the Eastern Caribbean). Foxy himself still races on Endeavour, the Tortola sloop, built right there in Foxy's backyard on Jost Van Dyke.
As the wooden boat fleet was slowly diminishing, the trend became more towards fibreglass. Back then, Foxy and the West End Yacht Club race committee on Tortola, which paired up with Foxy's crew to help run the races, decided to increase the numbers of boats and allow "classics" to race – boats over thirty years old.
Foxy's Wooden Boat Regatta has held its ground, among Caribbean racing circuits, despite so many knocks, it could have easily vanished, along with the beloved yachts. Appreciation of the old, traditional sloops and classic yachts has continued. These old Tortola sloops are now on display at Nanny Cay on Tortola and are making a slow come-back, with the efforts of Geoff Brooks and the Virgin Islands Sloop Foundation. Foxy himself has stated, as long as there are two wooden boats able to race against each other, he will keep the Regatta alive.
Besides on-the-water racing, shoreside events at Foxy's never disappoints. There is always a good vibe on Jost van Dyke in general, and Foxy's in particular. The beach barbecue is like no other, loaded with Caribbean delights you'll seldom find elsewhere. The beers are cold, the Painkillers, frosty and the Dark 'n' Stormys….well – they're dark and stormy!
The racing has attracted notable sailors from the region, from Puerto Rico, as well as all the Virgin Islands, both BVI and USVI. Prominent participants have included Dr. Robin Tattersall, a resident of Tortola and eminent surgeon (who has raced this regatta for countless years), Peter Holmberg (of America's Cup fame), Pat Bailey (an international judge for sailing events), and various BVI Governors from over the years.
Whether there is an event on, or a race pending, Foxy himself can inevitably be found in the bar most days of week, strumming his guitar and entertaining guests with jokes and stories. Even the non-sailors among us would enjoy time spent on the Pirate Island, for which Jost van Dyke was named – or just relax beachside in a hammock. Either way, it will be time well spent. As Foxy likes to put it, every day at Foxy's is a party.
Want to be part of this in 2023? Call BVI Holidays and we will be delighted to arrange this for you.
Credit BVI Welcome Guide and Foxy.