The best way to see the BVI and appreciate the beauty of the British Virgin Islands is from the water. There are many companies offering sailing excursions which are available to book locally and BVI Holidays would like to share some of these with you here.
Celtic Powerboats is owned and operated by Captain Patrick Conway whose knowledge of the BVI is unsurpassed. Captain Patrick will take you to places that even some of the locals don't know exist!
Celtic Powerboats offers an excellent and varying range of trips aboard Celtic Pride which is a 32' power cat and one of the smoothest riding powerboats on the market. She is perfect for groups of up to 12 people.  Below is one example and is the Nature's Secret Tour.
One of the stops is the spectacular Monkey Point on Guana Island, which provides amazing snorkelling and breath-taking scenery.
Captain Patrick tells us that this is a popular tour for couples and families who want to see more of the BVI in one day than most people do in their entire holiday. From West End, Tortola we start with a cruise to Norman Island where you can snorkel 'The Caves' or 'The Indians' followed by a cruise through the Bight. We then power on to Peter Island where we anchor in 5' of crystal clear water at Honeymoon Beach and you can snorkel and hopefully see the resident sea turtles and white spotted stingrays, swim or stroll the beautiful white sand beach. After this we head to Cooper Island (passing Dead Chest and Salt Island en-route) where you can snorkel Cistern Point which has a vibrant reef with many species of colourful fish and beautiful coral. We then call in at Cooper Island Beach Club where you can enjoy an excellent lunch, their micro-brewed beers, visit their rum bar, savour their coffee and home-made ice cream in the coffee shop, pick up a gift in their lovely boutique or simply relax on the beautiful beach.
We then power onto 'The Baths' in Virgin Gorda which are awe inspiring as there are few places in the world so uniquely stunning. They are made up of huge geological boulders with pools of clear water nestled between them. You can snorkel the clear turquoise water, explore the trails between the boulders or simply chill and take in the amazing beauty.
Destination 1: Norman Island
The tour begins with a cruise to Norman Island, where you can snorkel 'The Caves' or the neighbouring 'Indians'. Norman Island in the BVI was the inspiration for Robert Louis Stevenson's novel 'Treasure Island'. Explore the three water level caves and search for treasure which was last found in 1915. The caves are stunning and atmospheric with schools of Yellowtail Jacks and Sergeant Majors. You will also see lots of orange cup coral and red sponge covering the walls of the caves. Angelfish Reef off Norman Island is a good place to glimpse sea turtles. The Bight and Kelly's Cove also offer exceptional snorkelling.
Destination 2: Peter Island
After lunch we have a gentle cruise to Deadman's Bay which is the largest beach on Peter Island. It is one of the most stunning beaches in the BVI with a mile of powdery white sand and turquoise water which is perfect for snorkelling, sun-bathing or strolling in the shade of the palm trees. We will anchor in 5ft of crystal clear water while you snorkel and hopefully see the resident sea turtles and white spotted stingrays.
Destination 3: Discover the Baths at Virgin Gorda
After lunch we have a scenic boat ride to The Baths in Virgin Gorda passing Ginger, Round Rock and Fallen Jerusalem en-route. They are the most iconic attraction in the Virgin Islands. Your captain will drop you off at Devil's Bay and allow you to take some time to explore the hidden pools and enormous volcanic boulders. After you walk the trail your boat will be waiting outside the swim zone at The Baths.
Break for Lunch:
Enjoy Lunch at Cooper Island Beach Club which is the BVIs' most premier eco-resort. Here you will enjoy a nice lunch, check out their Rum Bar (which has the largest selection of rum in the BVI), their micro-brewery, boutique, coffee shop and artisan ice cream. Lunch costs not included in tour price.
Destination 4: Monkey Point, Guana Island
One of Celtic Powerboat's favourite places in the BVI is Monkey Point on Guana Island, as it provides amazing snorkelling and breath-taking scenery
Sunset Cruise back to the Dock:
Enjoy a Celtic Painkiller made by your captain before we glide back to Tortola as the sun begins to set over the BVI, providing a beacon to bring us safely home and complete your perfect day.
This is only one example of many tours offered by Celtic Powerboats and the cost for 12 people is $1525.00 and includes Captain, Fuel, Snorkelling Equipment, Towels, Soft Drinks/Beers/Snacks, Cruising Permits, National Parks Fees. Lunch costs are additional and gratuity is at your discretion. Of course, if there are 2, 4, 6 of you etc., the cost is the same.  Costs are subject to change.
Another excellent option is to book a day out with Captain Scott at Aristocat Day Sails. Captain Scott operates sailing catamarans which can accommodate up to 40 people but to give everyone plenty of space, only a maximum of 26 people are allowed onboard.
Aristocat Day Sails offers many different itineraries around the stunning BVI and it doesn't matter which one happens to be operating on the day you book – you will love it!
The cost for a day out on one of Captain Scott's sailing catamarans is $135 per person and $70 per child aged 3-12. This includes Captain and Crew, freshly prepared buffet lunch, ice cold drinks – water, soda, beer, rum punch, snorkelling gear, 2 paddleboards. It is also possible to book an exclusive charter – prices on application.
Costs shown are subject to change.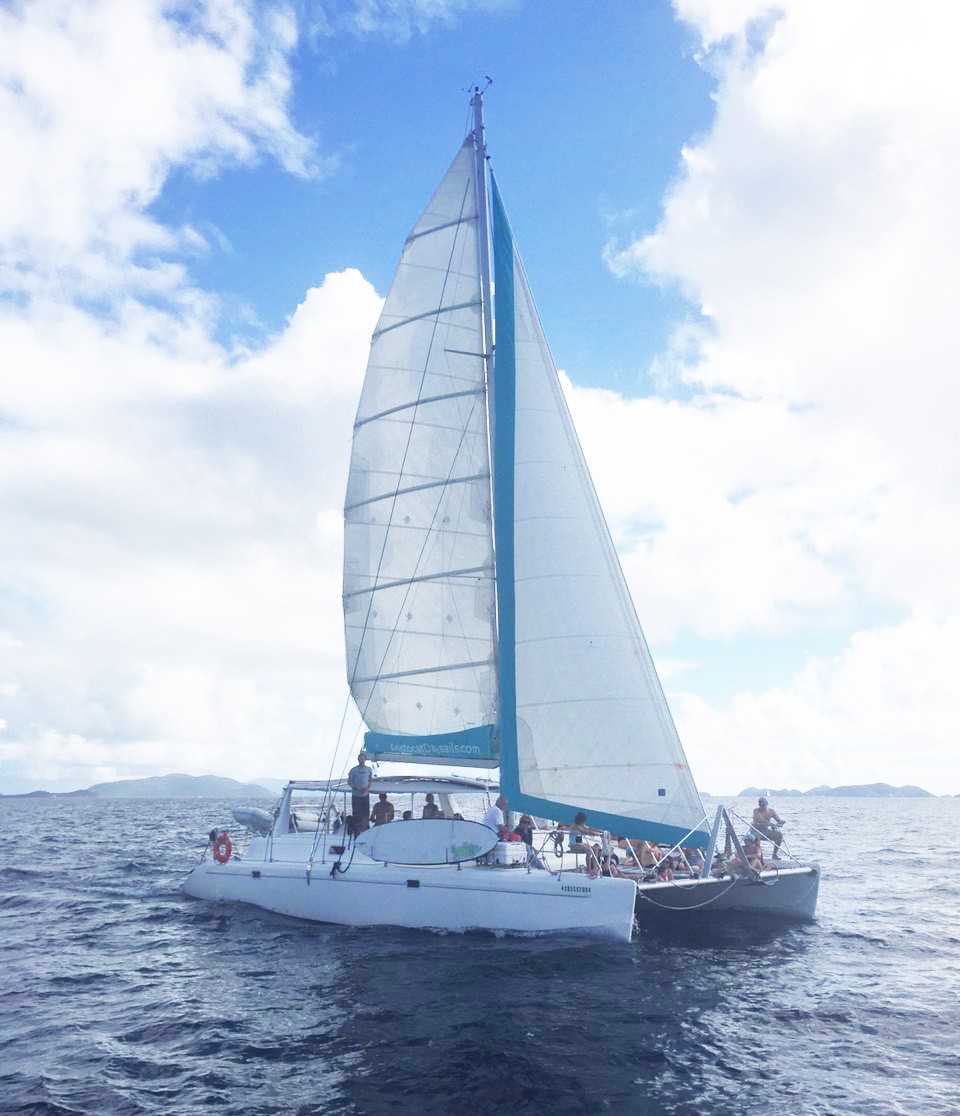 Adventure Charters is based on Tortola and operates a 48' catamaran called Belline II. This company not only offers day sails but you can stay overnight on the boat too, just to give you a taster of what life on the ocean wave is all about. Belline II has a massive 1250' of deck space including two trampolines and plenty of shade when you have had enough sun. Sun mattresses, bean bag chairs and a hammock are provided for your enjoyment and Adventure Charters also provide snorkel gear, floats and paddleboards too.
Adventure Charters charge $150.00 per person for a shared day sail and this includes healthy fruit snacks after your first snorkel, freshly prepared and home-made lunch served on board, unlimited beverages including rum punch/painkillers, beers, sodas and water, snorkelling gear, cruising permits, National Park fees and the onboard equipment described above. They take a maximum of 15 guests although Belline II can accommodate 30 guests.
Costs are subject to change.
If you would like to spend a night (or more) onboard, please contact BVI Holidays for the cost. This would be exclusive to your group and not shared with others.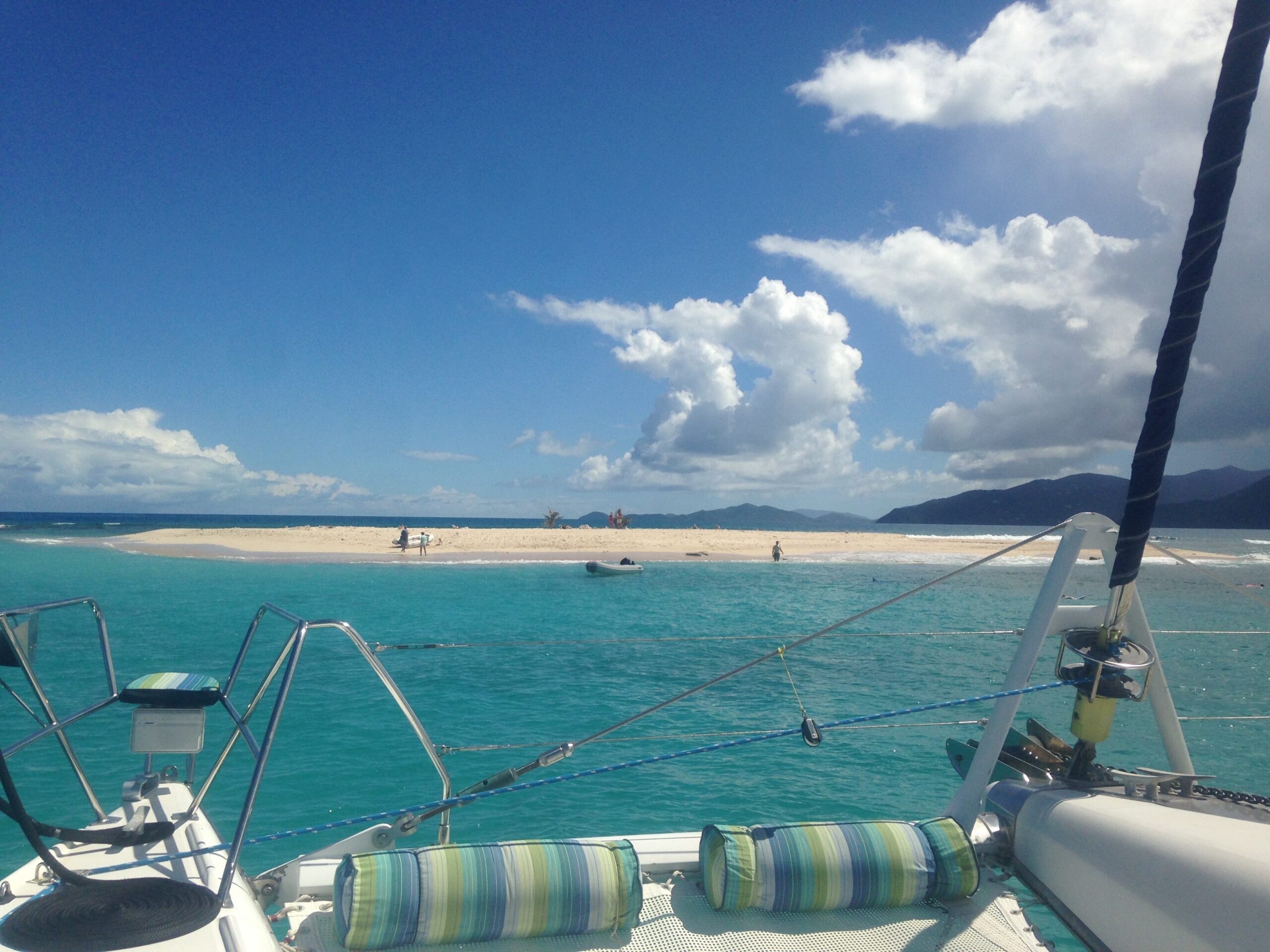 If you are staying on beautiful Virgin Gorda, look no further than Double D Charters and Captain Dave Irwin. Captain Dave's knowledge of the BVI is second to none and he will take you to excellent snorkel spots and great lunch stops too! There is a choice of power or sailboats at Double D Charters – it all depends on where you want to go!
Prices are on application and include beer, water, soft drinks and….your very knowledgeable captain!