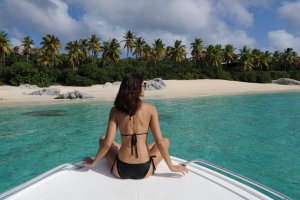 It all began in 1968 when a few adventurer/sailor/visionaries realised what the British Virgin Islands had to offer and took the plunge into a risky endeavour – the bareboat chartering business. Crewed chartering for holidays had been going on since the late 1940s and had become well established in the US Virgin Islands but bareboat chartering, where the visiting sailor takes the boat and captains it himself with his own crew, was a new idea. One of the key factors in making the enterprise a success was that the charter company in the BVI would sell and then lease the boats from individual owners when they weren't sailing them; then rent them out, and share the revenue. There would be no capital outlay necessary from the charter company.
Back then, the boats were basic, primitive even, by today's standards. The average size was about 35ft with sparse accommodations; bunks one-up, one-down were not uncommon. Engines were potentially dangerous petrol driven affairs, unheard of nowadays. The cooking facilities included an alcohol stove, hand primed and pumped and a hand or foot operated water pump for dishes. The more luxurious boats had a saltwater pump to conserve fresh water. Refrigeration was a block of ice in an insulated box. Showering was not encouraged except by means of sea water on deck or perhaps a black bag filled with fresh water, heated by the sun, and hung from the rigging to be sprayed by means of a hand operated hose – what luxury!
Today the size of the yachts range from 31′ to 54′ and include not only monohulls but catamarans as well.  Catamarans have been around for decades but were always regarded with contempt by traditional yachtsmen. But by 1990 perceptions began to change and catamarans started to make inroads into the charter boat industry. They have lots of room, shallow draft, manoeuvre easily under power, and are fast and fun off the wind. Not only that, but they sail on a relatively even keel so "terrifying" heeling is eliminated. Although some sailors still prefer monohulls, catamarans and power cats have now become the vessels of choice for many.
Sailing in the BVI is a real pleasure – you are always in sight of land, the islands are easy to navigate between and you can still find deserted beaches and anchorages.
The yachts are equipped with GPS, fridge/freezer, barbecue, all bed linen and towels, including beach towels, cabin fans, some have air conditioning etc. etc..
Sailing around the islands is the best way to see the beautiful BVI.  Contact BVI Holidays for more details