Have you ever stood on warm powder soft sand and been struck by the peacefulness and beauty all around you?
My first trip to the BVI was in 1989 and it was almost like coming to "the land that time forgot"
– it was certainly the land that mass tourism had not touched and I was struck by how beautiful and unspoilt the British Virgin Islands were and how genuinely friendly and sincere the people were.
I was a little surprised when I checked into my first hotel and was not given a room key – but soon came to realise that this was fairly normal practice, and an indication of how safe the BVI are.
I quickly realised that this was a destination I would like to share with other discerning travellers and soon after, formed my company – British Virgin Islands Holidays Ltd
As the years have passed, I have grown even more fond of the islands and the people who live there. It is a pleasure visiting the hotels, apartments, villas and yachts in and around the BVI and meeting with their owners or managers, many of whom have become my friends, and who are constantly striving to provide and maintain their excellent standards of accommodation and personal service.
Would you like to travel to this unspoilt and uncommercialised corner of the Caribbean – the beautiful BVI?
If the answer to this question is "yes", then please call me or a member of my staff and we will be delighted to assist in making your dreams come true………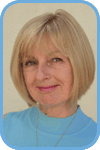 Joyce Burnett
Managing Director British Virgin Islands Holidays