Yes the British Virgin Islands comprises beautiful islands, stunning white sand beaches and amazing scenery but sometimes, it's not just all about lazing in a hammock in the warm sunshine, sipping a cocktail and today I would like to introduce you to one of the essential emergency response services without which, in the past, lives would surely have been lost.
As with so many of the BVI's volunteer groups, the members of VISAR – Virgin Islands Search and Rescue, come from all walks of life:  they're lawyers, doctors, people from the marine industry and the hospitality industry. But this is no ordinary group of volunteers. Instead, these folks are saving lives at sea.
The work sounds more like a demanding career than a volunteer endeavour, but for the past 30 years, this is precisely how VISAR has functioned, 24 hours a day, every single day of the year.  Some volunteers stay on dry land focusing on fundraising, maintenance or other necessities for an organisation running two bases, two fully equipped rescue vessels, and a 24/7 emergency rescue phone line. Other volunteers, however, are literal lifesavers, and receive intensive training to qualify to respond in person to stranded vessels, injured boaters, and basically any other emergency at sea.
Operations manager Julie Schneider tells me that VISAR has two primary functions: search and rescue (which, as the name implies, has been the focus since the founding) and, more recently, medical response.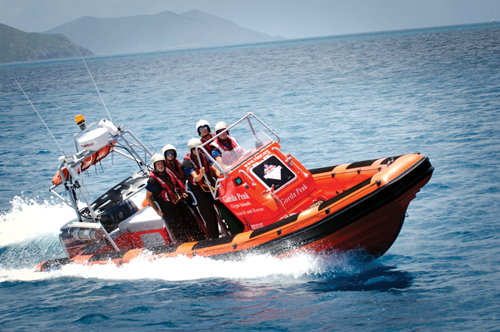 So how does it work? It begins with a call from a boater in distress, usually to VISAR's emergency telephone line -767. The volunteer on duty takes as much information as he or she can, then puts out a text to all qualified crew:  "Report to base."
When they arrive, the crew has no idea what they may be walking into. "What have we got?" they ask as they rush in the door. The coordinator will share all the details and any other pertinent information, and once enough crew have arrived, (there needs to be a qualified VISAR captain, or helmsmen, plus at least three other crew members before the vessel can head out) they rush away.
This all happens within minutes. Personally – I've witnessed it twice – a shout has come out during dinnertime. The fork is promptly dropped on the plate, the shoes found, followed by a mad dash out the door, with a "I'll call you or see you later."
During the response, the crew displays empathy for the family or others involved, especially if a death has occurred, says Duncan Muirhead, one of VISAR's founding volunteers. He describes the crew as selfless in these scenarios, which often involve meeting an ambulance back on land with an injured person who needs to be transported to the hospital.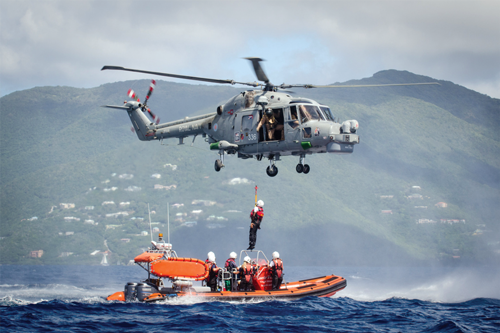 Royal Navy helicopter on a training mission with VISAR.
Once the emergency is over and the crew returns to base, there's a debriefing to review the emergency, and if necessary, any information that needs to be shared with other volunteers to improve responses in the future. While the BVI is generally considered a very safe place to sail and boat, such shouts are common and people can get into trouble: 2016 saw rescue vessels launched 82 times, nearly twice a week.
Today, the VISAR vessels and crew are so well equipped it is mind boggling. They do not call themselves an ambulance at sea, but to the untrained eye, they are precisely that. As the shouts (calls for assistance) are often medical in nature, the boats are equipped with all manner of emergency medical gear. The crew frequently goes through a regular checklist, making sure all the items are in proper working order. The boats – Virgin Gorda's Gorda Peak and Tortola's Spirit have engines powerful enough to right themselves (with lift bags) if a capsize at sea occurs. The current boats have served VISAR well but are reaching retirement. Happily, one new search and rescue vessel with updated features recently arrived.
Despite this broad scope, VISAR operates almost entirely on donations, following the pattern of the UK's Royal National Lifeboat Institution. Support comes from a range of backers, from shoppers dropping spare change in VISAR's bright orange cans at the supermarket, to VISAR members who pay from $150 per year, to the higher-dollar corporate sponsors and those who attend or donate prizes at annual fundraisers.
I hope you have found this interesting and thought provoking.