Grenada is situated in the southern Caribbean, northwest of Trinidad and Tobago and northeast of Venezuela.  Known as the "Spice Island" Grenada is home to numerous nutmeg plantations and a lush rainforest.  It has been said that Grenada's quaint little capital, St George's with its Georgian buildings and colourful homes is one of the prettiest in the Caribbean.
Grenada is also located below the usual hurricane path and you would be very unlucky to experience such adverse weather.
Fort George is an 18th century fort and sits atop a hill overlooking horseshoe shaped Carenage Harbour.
There are lots of interesting and diverse things to do on Grenada – take a dip in the natural pool below the Concord Waterfall, visit the Nutmeg Station for a taste of island spice, visit the Diamond Chocolate Factory and tour the Caribbean's oldest, still functioning, water-powered distillery to taste the very potent rum which is only available in Grenada.
A trip to Grenada would not be complete without a visit to Grand Etang National Park and Forest Reserve. This is a place teeming with exotic wildlife where residents include armadillos, mona monkeys and tropical mockingbirds.  Explore areas such as Mount Qua Qua with its stunning views of the park and beautiful Grand Etang Lake.  Hiking in a rainforest filled with the aroma of fresh spices is an experience like no other.
The scenery on Grenada is simply stunning with majestic mountains, spectacular waterfalls, stunning sugar white sand beaches and of course, warm turquoise Caribbean waters for swimming, snorkelling, sailing and diving.
Grenada offers top quality hotels and villas set on beautiful beaches and is far less commercialised than a lot of the other main Caribbean islands.  It is also very easy to access from the UK.
I personally spent a holiday on Grenada in 2016 and…..I was not disappointed.  I can highly recommend this beautiful Spice Island.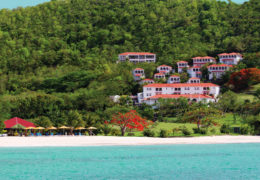 Tucked into the flowered hillside with stunning views over Grand Anse – the best beach on Grenada, is Mount Cinnamon.  Mount Cinnamon is owned by English entrepreneur Peter de Savary.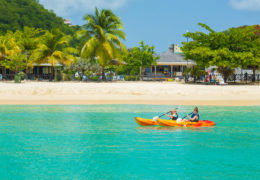 The Coyaba Beach Resort is perfectly situated right on Grand Anse beach on the island of Grenada and only a short drive from St Georges, the historical capital of Grenada.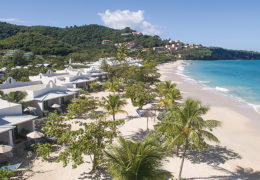 Truly a jewel in the crown of Grenada.  Spice Island Beach Resort is situated directly on beautiful Grand Anse Beach and is owned and operated by Sir Royston Hopkin and his family.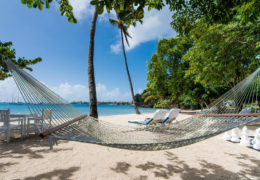 The Calabash is situated next to the beautiful white sands of L'Anse Aux Epines Beach and was named the No. 1 hotel in the Caribbean by Trip Advisor in 2017.  It is owned and managed by the Garbutt family who bought the hotel in 1987. Since then the Calabash has evolved into the world class luxury resort it is today.