There is no better way to arrive into the British Virgin Islands than in the safe and capable hands of "Fly BVI".
The company is owned and managed by Pilots who appreciate how valuable your time is, and their priority is to carry you to your destination on time and in safety and comfort. You will be met as soon as your transatlantic flight lands, and you have cleared immigration and customs, and escorted to your waiting aircraft. If your trip is during daylight hours, the scenery flying over the Caribbean islands is spectacular.
Fly BVI's fleet of aircraft range from the 5 passenger Piper Aztec to the 9 passenger cabin-class Cessna 404 Titan with its comfy and spacious leather interior – giving passengers more leg room than on some of the transatlantic flights!
Fly BVI offers scenic tours within the British Virgin Islands – fly over Necker Island (owned by Sir Richard Branson), Virgin Gorda, Peter Island, Cooper Island and lots more – the views are breathtaking. They also offer a great day trip to Anegada, the most northern of the British Virgin Islands which includes lunch at the "Big Bamboo" beach restaurant. Snorkel from the stunning white sand beaches and just enjoy a really relaxing day out. This trip is a must for all visitors to the BVI.
BVI Holidays has enjoyed a great working relationship with Fly BVI for many years, using their services to safely transport our clients within the Caribbean.
Call us today and allow Fly BVI to welcome you aboard!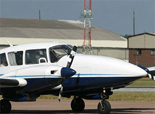 PA-23-250 Turbocharged Aztec
Seats: 5
The 'Turbo Aztec' features superior climb capability, powering up to cruise altitude in a shorter time. Many comfort and speed modifications have been made in order to give the passengers and crew a pleasing environment. With a handsomely appointed leather interior, newly upgraded avionics and excellent baggage capacity, the Turbo Aztec ensures  comfortable and safe transportation.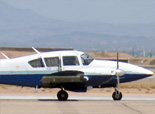 PA-23-250 Aztec
Seats: 5
The Piper Aztec is best known for its excellent passenger and baggage load capabilities. It has extended range fuel capacity, giving it long endurance for non-stop down island trips. Stable handling and dependable performance afford Fly BVI's passengers that extra margin of comfort and safety. The Fly BVI Piper Aztecs offer superior short-field operating characteristics, making it a favourite for those trips to Virgin Gorda and the beautiful island of Anegada.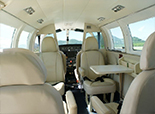 Cessna 402 Business Liner
Seats: 6/7
The 402 Cessna has a wide body affording passengers a comfortable and spacious cabin environment. Fly BVI has configured the 402 to seat a maximum of 7 passengers with six seats in the cabin and one seat in the cockpit beside your Captain. Of course, this is the seat that everybody wants!
Addition of the rear cargo doors and over-wing pilot door, allow for oversized baggage loading and aid passenger comfort.
Fly BVI always have their eye on safety therefore, the 402 may be weight-limited to six passengers under certain conditions. Ten rectangular windows in the passenger cabin afford everyone a front-row view of the crystal clear Caribbean waters.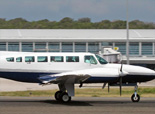 Cessna 404 Titan
Seats: 9
Driven by two powerful geared engines, the Titan is well-known for it's impressive lift capacity, allowing safe operation from short runway environments. The aircraft is operated at substantially lower RPM settings than many twin-engine airplanes, presenting quiet passenger comfort, reduced vibration and excellent fuel economy.
Fly BVI gives everyone a window seat. Their Titans are configured for a maximum of 9 passengers, all riding in a comfortable brand-new leather interior. Enormous side windows assure everyone a grand view of the beautiful Caribbean Islands.  The Titan 404 has a large cabin and an impressive baggage handling capacity.  This aircraft is loved by pilots and passengers alike. For both safety and performance the 404 Titan is "King of the Ramp" at airports throughout the Caribbean and the envy of Air Charter operators worldwide.